The experts are here to serve you.
Here they are!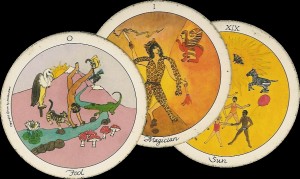 1.

The Motherpeace Tarot



Alice Walker, author of the The Color Purple: "The Motherpeace Tarot has been a wise and loving oracle. A clear mirror that constantly shows the truest face."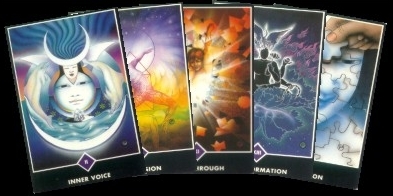 2.

The Osho Zen Tarot
Amazon.com: When life seems to be full of doubt and uncertainty we tend to look for a source of inspiration: what will happen in the future? What about my health, the children? What will happen if I make this decision and not that one? This is how the traditional tarot is often used, to satisfy a longing to know about the past and future. This Osho Zen Tarot focuses instead on gaining an understanding of the here and now. The Osho Zen Tarot has a five-star average of 82 ratings! As you can see, it's easy to love.
3.

Your Tarot Reader, Kaye Sturgis


Kaye has practiced as an oracle for over thirty-five years and using the Tarot for twenty-five of them. She has "read" over 10,000 people from around the globe and from all walks of life. She may not have heard it all, but she's seen a lot over all those years. Her sincerity, integrity and the wisdom of her experience is likely to put you at ease very quickly.
And now, for the GREAT REASONS to make your appointment now!
The best thing is that you get to ask questions and get answers.
Discover the meaning of
your purpose

your life

your experiences

your choices

your relationships

your financial well-being

your professional arena

your balance point

your physical, emotional and mental health

just about whatever you want to ask about

practical wisdom as seen through the mirrors of the Tarot.
Come, look in the mirror. It's fun!
Well, maybe it is not fun all of the time, but it will help get you there.
But wait! Did you know that you get MORE!
You can also ask for Tarot help for
The Law of Attraction as it — and other Universal Laws apply to you.

Old patterns — those you desire to hold fast to letting go of.

Embracing new life-giving patterns
And if you want, you get to take a look at:
Your big picture

The future you're NOW creating

A fresh and clear perspective
Now that you know on several levels why it will work for you to get a reading, you may want to learn a little more about what your Tarot Reading is all about.
Basically, the reading is about you and your life. The images on the cards are seen as mirrors of your life, or parts of your life. The Major Arcana of 22 cards are considered mirrors of your soul. The 56 Minor Arcana reflect your physical, emotional, mental and spiritual realities of daily life.
These cards are shuffled, and cut into three piles, and put together again. Why the cuts are done is no mystery. It gives your "thinking mind" something to figure out, while your "gut feelings" cut the cards the way they want. There is no right or wrong when it comes to you or your reading. If we are working by phone, and for subsequent readings, I will shuffle for you. I have found that this works, and it also gives more time for your reading.
After the cut, I will lay them out in a pattern. The positions of the patterns have meaning as well as the images on the cards. I will interpret the cards that show how you are playing the game of life and answer your questions.
Write Your Questions Down Before your Appointment.
Sometimes, folks like to begin with a general reading. I personally enjoy an interaction about what is present and upcoming for you, rather than being a "psychic dog and pony show". My intent is to be of loving service to you in integrity and wisdom to the best of my ability.
If it is a general fortune teller that you want, I'm not the reader for you.
Otherwise, I imagine your reading will be a heartfelt yet practical experience.
Win-Win!
We can cover a variety of topics, or we can just focus on one or more areas in depth. I might begin with a general reading, with you asking a question or two along the way. OR you might have lot of questions, and we can just dive into answering them right away if you like. However we work it, we will go with the flow of the "energy" of the reading.
You may want to take notes, and I record readings (unless you prefer it to be given without recording), and send the only CD or MP3 audio file to you.